STORE
3D Abs: Six Pack Fast Track Ebook

This ebook outlines and explains all of the exercises, workouts, and nutrition guidelines in the 3D Abs program, complete with illustrated workout charts and descriptions. Alternative exercise variations and beginner training progressions are also provided for different fitness levels. It gives you everything you need to get started.

Here are some of the features of my 3D Abs program:

3 research-proven core exercises revealed (based on a Berkeley University EMG study)
3 short Ab-Blasting workouts per week, designed to get your abs to POP!
3 quick Fat-Torching Metabolic HIIT workouts per week to fire up your metabolism, using 3 basic, highly effective, "old-school" exercises
3 levels of difficult to accommodate every fitness level
3 Mechanical Advantage DropSets (M.A.D.) that will force your abs to develop
Coaching videos for EVERY workout (including exercise alternatives)
Evidence-based nutritional guidelines to help you individualize your own unique fat loss diet


Custom Meal Plans

The Auto Diet Coach Program is the most simple AND comprehensive custom nutrition plan you'll ever follow!

The Auto Diet Coach collects your info using a comprehensive questionnaire and builds a custom diet plan for you to follow (based on your height, age, weight, sex, activity level, goals, etc).

All meal plans list the macros and calories as well.


With the basic package you get:

A starter meal plan for both workout and non workout days
A secondary meal plan to use when you hit a plateau
All plans visually represented with a "Portion Guide".
A food and supplement guide.

Get Lean: Permanent Physique Transformation Ebook

This 130 page ebook is a comprehensive guide for losing body fat and keeping it off. It explains all 5 Get Lean Facts in detail, and includes:

A fully illustrated exercise program, with pictures and descriptions of how to perform each exercise.
Links to online video demonstrations for every workout.
Exercise alternatives for both home and gym environments.
A 3 month training plan, progressing through different phases of training.
Sample meal plan for each phase.
The Get Lean Nutrition fundamental principles, as well as basic guidelines to follow.
An introduction to 4 key principles of mental conditioning.
Simple lifestyle changes and daily habits you can make to accelerate your fat loss. ...and much more!

Get Mental: The Psychology of Strength Ebook

This ebook contains over 30 pages of powerful information, clear instruction, and effective techniques for developing a psychology of strength.

How you can gain strength and lose fat from mental training alone (proven by university studies).
The truth about building strong new habits.
Why you may not really know what you think you know.
The reason why "affirmations" actually work and how to create your own.
The A.C.T.© for creating new neural pathways. *(Affirmation Conditioning Technique)
Other specific techniques for reprogramming your mind for success.
The true power of goal-setting and how to create powerful goals. ...and much more!

DVD - Building the Complete Soccer Athlete: Train Like a Pro

A Complete System for soccer players and coaches who want to improve their game.

Josh Hewett, Athletic Director, and Clayton Rosario, Technical Director, team up to bring you a comprehensive training resource for soccer athletes. The DVD, Building the Complete Soccer Athlete: Train Like a Pro, covers a wide variety of technical drills with the ball to improve touch, speed, and moves to beat an opponent on any part of the field, as well as equally important, yet often neglected, speed, strength and conditioning exercises. The basics of sport psychology and nutrition are introduced as well.

For More Information visit www.soccerathletics.com


US and Canada Orders
$15 CAN - FREE Shipping
International Orders
$15 CAN + $5.95 S&H

Recommended Home Workout Training Accessories

*Top Form Fitness will not be held responsible for any duties, taxes, custom charges, tariffs, levies or any other fees that may be incurred during the transit of your package.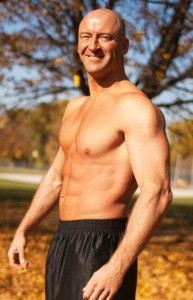 Long Distance (online) Training: $100
Includes assessment (questionnaire)
initial phone consultation (up to 30 min)
personalized 1 month program design
unlimited email consultation (4 weeks)

Online training programs to increase strength, fat loss, muscle mass, performance.
TO ORDER OR FOR MORE INFORMATION CLICK HERE
TO GET STARTED:
1. Contact me at josh@top-form-fitness.com or 416-931-0800.
2. All Online Clients need to register a free account with www.myfitnesspal.com to keep track of their nutrition.
3. I will begin by sending you a comprehensive questionnaire and nutrition journal for you to complete to provide me with necessary information concerning your injuries, training experience, goals, and more. Your photos and videos are also helpful but not mandatory.
4. I will then design and send you a personalized 8-week program, including nutrition guidlines, warm-ups, exercise plan, and loading patterns directed toward your specific goals.
5. During your 8-week routine, I will be available to answer any of your questions, to provide feedback, or to make any necessary program adjustments.
Contact Josh to book your Free Initial Consultation! 416-931-0800