I understand that people are overwhelmingly confused by the abundance of health and fitness information and misinformation prevalent in the media today. This is why I've created these free training resources to help guide you on your way to shedding unwanted body fat, building lean muscle, and ultimately transforming your physique.
My name is Josh Hewett, the owner of Top Form Fitness and the creator of Get Lean: Permanent Physique Transformation. I'm an author, public speaker, and fitness professional with a university degree in Kinesiology, several personal training certifications, and over 20 years of experience in the fitness industry. You can find out more about my background and qualifications by taking a look through this site.
My free ebook called How to Maximize Fat Loss is the ultimate guide for busy people who want to shed body fat, boost their metabolism, and get lean. Six fitness industry experts will show you the most effective and time efficient strategies for burning off inches of unwanted fat.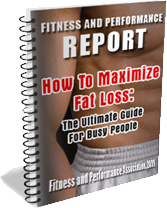 You will learn:
how to get started on your fat loss journey
the best form of strength training for fat loss
why long slow cardio is a waste of time (and what to do instead)
how to use interval training to get lean in record time
nutritional guidelines (with a sample meal plan)
the truth about fat loss supplements (what works and what is a waste of money!)
killer core exercises for a strong, defined midsection
---
I've also included my report on the most
Effective Strength Training Principles
, which covers 13 keys for building stronger, more powerful muscles. This document covers the fundamentals of a highly effective resistance training program. I've also included a video tutorial to demonstrate the
5 best exercises for size and strength
. If your goal is to get stronger and build lean muscle this report and accompanying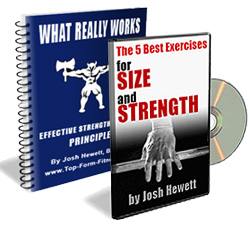 video will be invaluable to you.
You will discover:
The simple key to continual progress in the gym
What types of exercises have the greatest training effect
How certain unique "real world" exercises can contribute to your results
How and when to stretch safely
What training with balance should mean (get off the wobbly boards & BOSU ball!)
Correct technique for five highly effective exercises
and more more!
---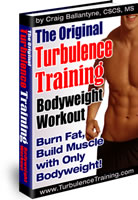 Finally, you will get a fat-burning bodyweight workout by Turbulence Training, which you can use to melt inches of fat in the comfort of your own home.
This is a basic but challenging workout that doesn't require any equipment to perform so you can essentially train anywhere! The exercises and program layout is designed for effective fat loss.
The combined value for all of these training resources is $27 but RIGHT NOW you can get them all for FREE, just by entering your name and email in the form below.


---

Enter your email now to get instant access to these training materials and as a BONUS, … you'll also get access to my top-rated online-course, Formula 4 Fat Loss.
This is a complete 4 Part Fat Loss Program, consisting of 4 Email Lessons including quick fat blasting workouts, a nutrition plan, and strategies for staying motivated… absolutely FREE.


It's been my experience that sharing great information is a good way to build my reputation. I know you will benefit tremendously from this training material, and I invite you to send me updates of your progress, share it with your friends, and check out my website to see what else I have to offer (which includes more free videos, articles, and blog posts).
I wish you success in your fitness goals, and if you have any questions feel free to contact me directly at my personal email:
josh@top-form-fitness.com
Stay Fit,

Josh Hewett
P. S. Results come to those who take action, so enter your name and email now and start transforming your body today!
P.S.S. If you're looking for a more detailed, complete training and nutrition plan, check out my book "Get Lean: Permanent Physique Transformation". This program will guide you step by step to unleashing your new physique!