Why I am Learning Tai Chi
I always tend to keep a fairly full schedule, and engage myself with projects and activities that excite me, but this past few months have been particularly busy.  It wasn't until I had a chance to slow down during this Canada Day long weekend that I actually realized just how fast my life was moving.  This becomes especially apparent as I watch my daughter grow right before my eyes at what appears to be an alarming rate.  Watching her also reminds me just how important it is to treasure every moment and really be present.  You can learn a lot from watching your children.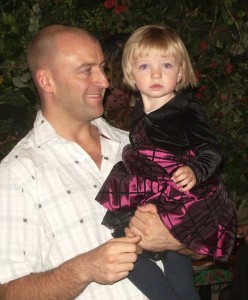 As much as I still believe that intensity is the key for getting results from your training, I also understand that this needs to be balanced with proper rest and recuperation (for your mind, body, and nervous system).  I have known for some time that I would benefit from adding a relaxing or calming activity into my health and fitness routine, but I never found something that resonated with me.  I don't have the patience for meditation.  I'm not a proponent of yoga.  I tried guided relaxation with some success, but something was missing.  Recently, however, I was reminded of an activity that I had enjoyed practicing in the past, and I decided to try it again.
There is an older Chinese gentleman who practices Tai Chi in the park by my house every day, and if I am in the park with my daughter or doing some sprints, I would occasionally stop to watch him.  He is always wearing his authentic Tai Chi uniform, and practices 24 Form TC masterfully with his iPod (and a small portable speaker) playing  beautiful traditional Chinese music.   A couple  of weeks ago I decided to speak with him after he was finished.  Although his English was broken, we were able to communicate and he agreed to take me on as a student.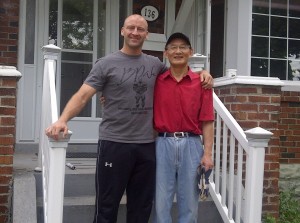 Tai Chi is a martial that is practiced very slowly and smoothly, with a relaxing, rhythmic flow, although it is said that once you are a master of Tai Chi it can be performed very quickly as a effective fighting art or form of self defence.  Tai Chi has long been recognized in China for its benefits as a system of health maintenance and for its restorative qualities after illness or injury.  More widespread participation and increasing positive research results are now leading to similar recognition for tai chi as a valuable form of exercise and self-healing in our Western culture as well.
From a Chinese perspective, all sickness and illness is the result of imbalances in the flow of chi (qi) or 'life energy'. According to traditional Chinese  medicine, the most effective approach is to correct the energy flow by ensuring a balance of yin and yang.
The irregularities or imbalances can be corrected by any technique that encourages energy to flow correctly. In all these techniques the state and focus of the mind plays an important role.
The traditional Chinese approach recognises this 'body-mind' connection and recommends tai chi exercise along with the deep breathing and mental focus associated with it in order to promote a balanced chi flow. This, in turn, promotes the well being and healing of the person as a whole (both the body and mind).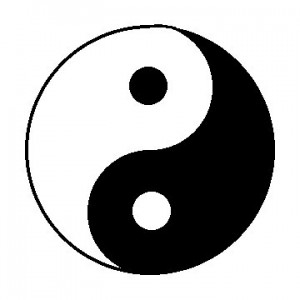 Although tai chi is slow and gentle and doesn't necessarily increase your breathing or heart rate, it still addresses some key components of fitness — strength, flexibility, and balance:
Muscle strength.
Various published studies demonstrated that older adults who participated in Tai Chi were able to significantly improve their upper body, lower body, and core strength in a matter of weeks.
Flexibility.
Many of the participants in these same studies also significantly improved their measures of upper-body and lower-body flexibility.
Balance.
Tai chi improves balance and coordination. Proprioception is the ability to sense the position of your body in space, which tends to decline with age. Tai chi helps train this sense, which is a function of sensory neurons in the inner ear and stretch receptors in the muscles and ligaments.
But my primary interest in Tai Chi is the benefit it can have for your mind and nervous system by encouraging the participant to slow down and empty the mind.  Anything that will encourage relaxation and recovery is important to me at this point in my life.
The idea that a more relaxed approach to life can be good for you isn't just my personal realization… It's actually the foundation of a new movement that encourages all of us to put on the brakes more often. The belief is that finding a slower rhythm can improve just about every part of your life and your health.
Wish me luck with my endeavor to learn Tai Chi and make it a part of my routine.  I encourage you to find something that helps you slow down and relax a little more in your life as well.
Stay fit,
Josh
One Response to Why I am Learning Tai Chi