Getting results from your training is strongly related to the intensity at which you train. If you don't engage your exercise program with the appropriate intensity you are missing out on the progress you could be achieving. Even with the best training program and the most productive exercises, if you don't challenge yourself you aren't likely to see significant results.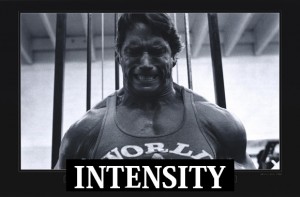 High intensity training requires a certain mental toughness, effort, and a willingness to get out of your comfort zone. The video below demonstrates 4 methods of increasing the intensity in your workouts using a technique called "set-extension", which means you will employ these methods at the end of a set, once you have already reached momentary muscular fatigue.
Hello again!
It's been another busy week, and I'm looking forward to the next month or so being quite full as well.  But don't worry, I'll be sure to continue posting great content for you here!  In fact, I'm working on a couple of projects I expect you will appreciate.
But for now I want to update you on how the Sporting Life 10K Run went last weekend.  I finished the run in 54 minutes, meeting my goal to complete the 10 kilometers in under an hour.  It wasn't a fast time, but I maintained a steady pace, and felt pretty good after… that is, until the next day when my CALVES were on FIRE!